-Being-
Hi. The short version is that I am a trained physicist, have worked professionally as a computational neuroscientist and data analysis type guy, and more recently have been working in software development (games, art, web, backend), primarily in the languages Common Lisp, Scheme, Java and Javascript, where I am bringing idioms and ideas from functional programming into my company's codebase.
In addition to the raw pleasures of making bits move around by typing symbols at machines, I am now nursing a deep interest in the process of developing software in teams. I've become particularly interested in what interpersonal dynamics enable successful software development. I've recently enjoyed Specification By Example, by Gojko Adzic, and Inspired by Marty Cagan.
I've got good communication skills and I am comfortable using them in front of a large number of people. I particularly enjoy communicating about challenging and abstract ideas. I may even enjoy rendering ideas comprehensible more than having the ideas in the first place.
Although professional life often intervenes, I make an attempt to stay creative. I occasionally write non-fiction, poetry, and music and recently have been working on a large series of generative art pieces in a Lisp dialect of my own design which targets Javascript.
Sorry humans looking for love: I'm quite happily married.
-Doing-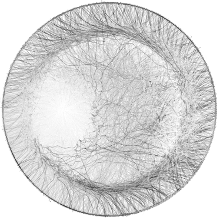 Of course, most of my time is spent working for Sensus, where I write all sorts of code to command and control city lighting systems over the air. The rest of the time I get up to:
-Projects & Code-
-Saying-
Dorophone (archive here) is my blog. I don't have nearly as much time to write as I did back in my languorous graduate student days, but I still update it periodically. A Dorophone is not a super easy to use phone which I am now dismayed to find exists, but a communication device from Ada, or Ardor which uses water to transmit sound, since electricity is taboo.
If I ever tweet, such tweets shall appear, as if by magic, here!: